2022 Track and Road Championships and Team
Trials

Sept. 01 - 07, 2022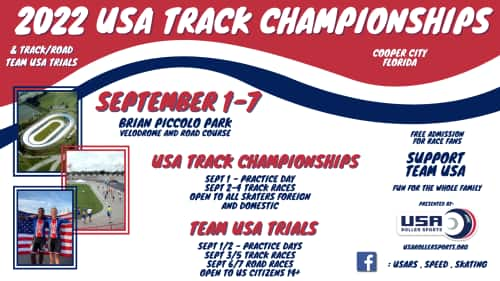 Live feed will be available through Boxcast.tv for the 2022 Track Road Championships and Team USA Trials. There is no hardwire internet available at the park so there will be a delay and possible slow upload for the feed. Worse case if the connection fails we will go live on This Facebook page until we get it back up.
USA Track Championships are open to all USA Roller Sports members and All International Skaters who have current membership with their country's NGB.

Divisions will be based on World Skate Rules - TBA shortly. Registration will open mid June.
Team USA Trials are open to all USA Roller Sports members with USA Citizenship 14 and older.
All members must be in good standing when registering and during competition. Membership Renewal will open mid August. Should an athlete not be in good standing registration will be denied. Athletes can contact the National Office directly to ensure their membership is in good standing.
Athletes who qualify for Team USA through Track and Road competition will have a Team Meeting September 7th. Be prepared to pay the full amount for Travel and Entry expenses. Alternate Athletes are required to attend meeting as well. Selection process TBA shortly.
2022 U.S. Track Championships and Team USA Trials registration is Live! Registration is due by August 19 for Early Bird Registration.
Registration is open August 20 to September 1st with a Late Fee. No registrations accepted after September 1st.
https://runsignup.com/Race/FL/Hollywood/2022TRACKANDROADCHAMPIONSHIPSANDTEAMUSATRIALS
Updates will be posted in Facebook Event: