2023 TRACK AND ROAD CHAMPIONSHIPS
Aug 1, 2023 - Aug 9, 2023 | Speed Skating | COOPER CITY, FL, USA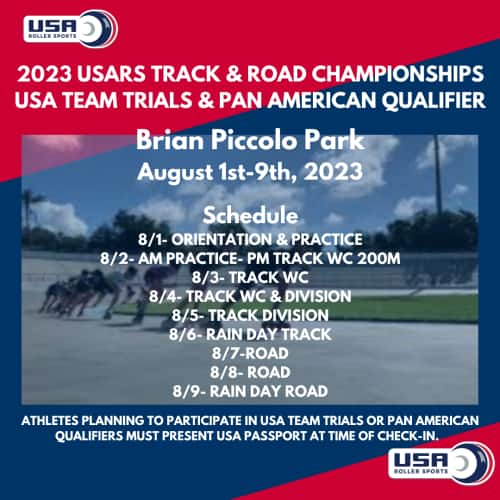 WORLD CHAMPIONSHIPS SELECTION CRITERIA
The schedule has been arranged to have the potential to take breaks during the hottest hours of the day; weather permitting. It is the goal of the staff to ensure the safety of the athletes, and not to have them compete during the hottest time of the day.
We have permission to have quite small newer generators at the track and road course to run cooling devices such as air conditioners, however, we will monitor it closely to make sure that they do not interfere with a competition.
Daily entrance and exit of track side items... generators need to be brought thru tunnel to avoid any possible spillage onto the bike track.
Gas cans for generators – this is a safety issue and gas cans are not to be in velodrome…generators need to be refilled outside of it.
Everyone must load tents and equipment through the tunnel.
The only trailers allowed in the velodrome/track and at the road course are ones used by USARS
Vendors may load and unload via car/trailer through the big top gate and must park out in the parking area.
Orientation- Practice- Level 1 Clinic
Times
Practice 8:30-11:30am
Level 1 Clinic 2-5pm
Practice 6-9pm
Practice 8:30-11:30am
Orientation 11am-12pm
If you have attended a USARS sanctioned Level 1 clinic and you have not completed the final qualifying session at a track prior to ODN, please attend the Level 1 qualifying session on August 1st 2-5pm to complete your qualification process. If you are attending the August 1st session as the final component of your qualifying process, you are not required to pay an additional fee as long as you provide proof of your pervious clinic participation. (i.e. items such as emails, evaluation form, or jot form receipts will serve as documentation...). Please direct any questions to the national office.
!!UPDATED!!
Senior and Junior Team USA Announcement
Team USA hotel and travel
accommodations
Announcement
Because of COVID protocols being lifted we are returning to pre-COVID world championship team accommodations and travel. Meaning, juniors will room together and seniors will room together as a team. Staff will be responsible for junior members.
Parents will be responsible for their own travel arrangements, returning to protocol before COVID.
Arrival airport (Venice VCE) and city Montecchio Maggiore Italy. The team is staying at Hotel & Residence Castelli-

Viale Trieste, 73, 36075 Montecchio Maggiore VI, Italy

The events will take place in the following locations: ● Track: Pattinodromo comunale di Alte Montecchio Maggiore 30675, Via Volta 94 ● Road circuit: Ramonda Arena, Viale Trieste 45, 36075 Alte Montecchio Maggiore ● Marathon: the marathon will take place in the city circuit - 4,7 km start and finish line at Duomo Montecchio, Montecchio Maggiore ● 100m Sprint Race: Vicenza
There will be 6 staffs to supervise the junior athletes...as it has been in the past.
We had made arrangements with Delta Airlines (who we have a partnership with) for a group booking of blocked seats where we could place the names to those seats once the team is selected creating a savings to the membership from JFK to VCE. Further research has shown Delta airlines, our travel agency and USARS that for most athletes and staff this savings would be lost due to the prices that are rising to get from one's home airport to JFK and back. The saving gained would be lost due to the domestic portion of the booking.
Due to this it is best for athletes to book their own flights from their home airport to Venice Italy via a connection route that is connected and priced reasonably between those two points of travel. Research has shown that some of those connections will take an individual if flying Delta airlines through JFK as first planned while other connections show a different connection point with arrival to Venice basically at the same time. If you choose to book your flight to the World championships before securing your spot on the team please do so with a means of a refund or credit if by chance you do not make the team. Doing this is on each individual and not something USARS is responsible for. Please realize that the closer we get to the date of departure the higher the prices will be in purchasing those ticket(s). In short as many of you have requested, you may book your flights to and from the World Championships in taking note /care with the below points.
8. Bus transportation for athletes has been arranged from the VCE (Vence, Italy) on August 20th to take athletes to the hotel. We are asking for the athletes to arrive at the airport on the morning of August 20th. We will have a designated time and meeting place for the team.
9. A staff member will be travelling on Delta airlines from JFK to VCE. Here is the flight information. The team members can meet and or connect through JFK and travel with the staff member if they wish. Depart 4:40 pm JFK (DL8740)--CDG-- (DL8359) Arrive Sunday Aug 20 9:20 am VCE
10. The travel budget for the team includes hotel, breakfast, transportation (bus & rental cars), entry fees, practice fees for track, incidentals, and travel expenses for trainer. At the night of the team meeting a deposit of $2500 will be required. If any additional funds are required we will post within the next few days. Any overpays will be refunded to athletes after the world championships have concluded.
11. t the team meeting, the staff will review all expectations and information pertaining to world championship travel.
12. The team will leave for home on the morning of September 4, 2023. A staff member will fly on Delta from VCE to JFK. Here is the information for that flight if anyone wishes to book with the staff member. Depart 12:35 pm VCE (DL8365)--CDG-- (DL267) Arrive 8:10 pm JFK
13. Bus transportation from the hotel to VCE airport will be used to transport athletes to the airport the morning of September 4.
Unofficial Practice
8/21: 12 athletes at 9:00-10:30 AM together with team France
8/21: 12 athletes at 10:30-12:00 AM together with Australia and Switzerland
8/21: all together at 7:30-9:00 PM (USA Only)
8/22: 12:00PM-1:30PM (USA Only)
8/22: 7:30-9:00 PM (USA Only)