Bout Summary Birthday BASH
Jun 9, 2012 - Jun 9, 2012 |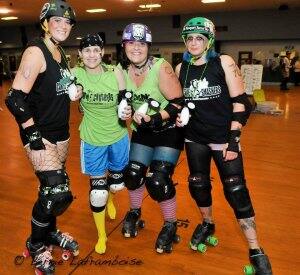 Party Crashers for the win!!
Michigan's Brighton Roller Dollz finished off their inaugural season with an intra-league bout this past Saturday at Rollerama with the Cake Smashers vs. the Party Crashers. The game was also a celebration of the league's 2nd birthday and an appropriate halftime show got the fans and skaters out doing the hustle and dancing together. It was a very close match with several lead changes and some hard (bone breaking) hits, but the Party Crashers sneaked by with a 122 -116 win over the Cake Smashers.
MVPs for the night were: Jammer - Lost and Found (CS) and Woody WouldDeckHer (PC) and Blocker Murder City Mistress (CS) and Vincent Van Ho (PC).
Brighton's travel team ended their inaugural season 6-1.