Bombshells wipe out Long Beach
May 19, 2012 - May 19, 2012 |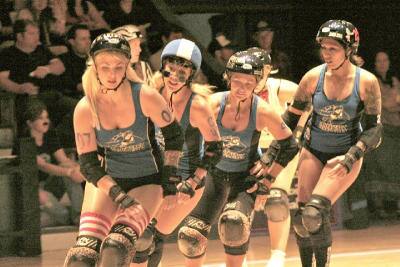 SANTA CRUZ -- Santa Cruz Derby Girls' Boardwalk Bombshells defeated Long Beach Roller Derby's The Gals 221-46 at the Civic Auditorium on Saturday night.
It was an extra special affair for Santa Cruz, which saw the return of former league mate Pigeon, who now plays for Long Beach.
In the first half, Santa Cruz earned lead jammer status 15 out of 19 jams. The Bombshells' blockers appeared to be using Long Beach's jammers as pinballs, knocking them across the track with brutal force. The Gals also found themselves battling strong Santa Cruz walls, though they remained both relentless and agile in their effort.
All three jammers on Santa Cruz's main rotation -- The Kid, Queen Litigious, and Candy Hooligan -- earned multiple grand slams, meaning they were able to lap the opposing jammer.
Pigeon was the only Long Beach jammer able to earn points in the first half.