Shrap Nellies Triumph Over Daisy Nukes in Season Ending Home Team Tiebreaker
Nov 3, 2012 - Nov 3, 2012 |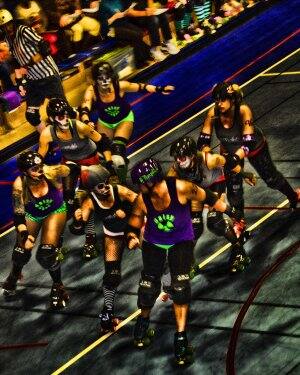 In the third and final bout of the season, the Shrap Nellies took a narrow win over the Daisy Nukes in a nail-biting tiebreaker bout.


The Boulder County Bombers said goodbye to home teams in a spooky, face-painted bout at the St. Vrain Memorial Building on Saturday, November 3. A thrilling 15-0 jam from Feist E. One kicked off the night in favor of the Daisy Nukes, but was followed immediately after by a 20-0 run by Kid Vicious for the Shrap Nellies. The two teams traded lead throughout the night, keeping the crowd on their feet. The Daisy Nukes took control just before the half, but power jams would prove decisive as the Shrap Nellies made a steady climb back up the scoreboard. The night would come down to the final minutes, as Kid Vicious called off her last jam with one second left on the clock, letting the Daisy Nukes call a time out. The final jam began with We Are The Borg on the line for the Nellies, and Nuke jammer Double DeckHer in the box. A tough wall of Nuke blockers kept Borg trapped, enabling DeckHer to finish her penalty and take lead jammer status. As DeckHer pushed through for her second scoring pass, Nellie blocker Catastrophoebe laid a powerful hit to the outside, forcing DeckHer to call the jam. The final score was 186-174 in favor of the Shrap Nellies.
The Bombers also announced the pre-sale of season tickets for 2013 available at http://seasonticketbcb.brownpapertickets.com.