A Hot Summer Smack Down!
Jul 13, 2013 - Jul 13, 2013 |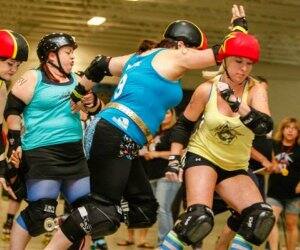 The Summer Smack down was a mixer bout hosted by the Goosetown Roller Girls and was located in New Ulm, MN on Saturday July 13
th
, 2013. Skaters came from 5 different teams total and lots of rough, tough fun. Battle was on between the Bikini Bottoms (Yellow) and Beach Babes (Aqua). With over 300 spectators in the stands we had an exciting night on our hands. The final results ended in with Beach Babes with 155 points and the Bikini Bottoms with 195 points. The night even wrapped up with a entertaining after party in downtown New Ulm.